The Dalek says: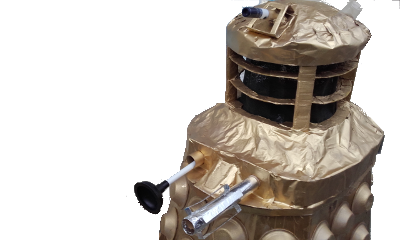 "Exterminate your computer problems by calling Clover Consultancy"
Dalek production at Clover Consultancy increases dramatically to an all-time record of one whole Dalek in October 2015.
Although Dalek building represents a departure from Clover Consultancy's usual activities of supply, installation and support of computer systems to small businesses, the project provided much the same level of satisfaction on completion as may be derived from exterminating computer problems that stop businesses from working efficiently.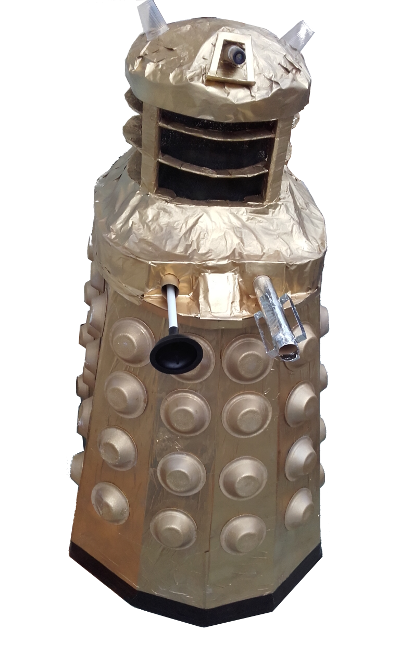 The client in this case, was a young Earth child in need of a fancy dress costume for Halloween and work began on the project just one week before the deadline.
Whilst scanning for an alternative to dalekanium, the rare metal from which Dalek cases are traditionally constructed, we were lucky enough to have tapped into a rich seam of apparently naturally occurring cardboard buried at the back of my garage, which provided the perfect substitute. Other materials; paper, glue, tape, string and aluminium foil were readily available in this sector of the planet and only the polystyrene bowls, the metallic gold paint and the all-important sink plunger required special, though not deadly, missions to procure.
The Dalek is fully manoeuvrable, being operated, just as a real Dalek, by a sentient being within its casing. In this case, due to the lack of Kaleds in the near vicinity and the fact that (whether co-incidence or not) since the hacking at TalkTalk, there has been no way to contact the planet Skaro to send one over, the aforementioned Earth child has been used as a substitute.
At the client's insistence, the exterminator arm is able to fire ammunition at its selected target, but to comply with Earth's health and safety laws, this is limited to foam darts rather than vaporising death rays.
Having finished construction, it was found necessary to transport the dalek in two sections requiring two land-based vehicles in order to fulfil its destiny, whereupon it was suggested that construction of some kind of vehicle that could accommodate objects larger than itself would have been a good idea. Unfortunately, this is not currently possible owing to the low rate of success with experiments in dimensional transcendentalism and the fact that I have run out of cardboard.